I am a self-proclaimed scifi-dork, fangirl, whatever. I love all things science fiction and always have.
For some reason though, I'd never thought about how much science fiction and pop culture are interwoven, even one in the same at times, until I started writing ANOMALY, my young adult debut. I mean, think about how much we give a nod to science fiction in our everyday conversations - or how much some science fiction has become common knowledge in the United States and beyond.
ANOMALY is science fiction set in present day. Josie, the main character, is a science-fiction nerd and totally owns it. There are science fiction nods, analogies, and references throughout the novel. Science fiction within science fiction. Is it a no-no? I'm not sure, but I really don't care, either. And here's why: I attempted to make a character that readers could relate to, who was real. The predominance of pop culture and the influence it has on our society, especially teens, can't be denied – so I used it.
My hope is that some readers will "get" Josie and her view of the world, seen through a pop culture/sci-fi lens.
Here is a short excerpt, to give an example of the science-fiction within the science-fiction:
She rolled said eyes and gave me the Vulcan hand gesture.
"I think your Vulcan salute is backward. I thought you'd know that, nerd," I said, trying to keep it light.
She turned her hand the correct way, the palm facing me. "No, this is what Vulcans like Spock use, which means 'live long and prosper.'" Then she flipped her hand so the backside faced me. "I'm using it backward, which means the opposite. 'Die and languish.'" She flashed a fake smile.
And Josie often says, "Oh, for the love of Khan."
For more scifi goodness, action, and a bit of romance, you can check out ANOMALY, releasing November 25, 2014 by Entangled Teen! Or for daily scifi and general dorkiness, follow me on the interwebs! Thanks so much for having me on your rad blog, LoEW!!!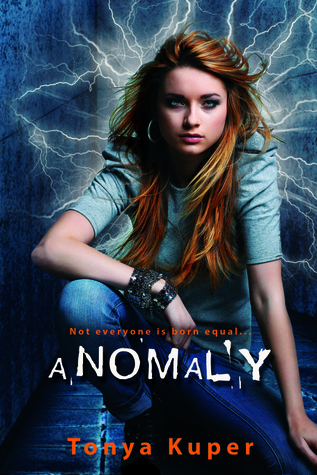 Reality is only an illusion.
Except for those who can control it...
Worst. Birthday. Ever. My first boyfriend dumped me – happy birthday, Josie!- my dad is who knows where, I have some weird virus that makes me want to hurl, and now my ex is licking another girl's tonsils. Oh, and I'm officially the same age as my brother was when he died. Yeah, today is about as fun-filled as the swamps of Dagobah. But then weird things start happening...
Like I make something materialize just by thinking about it.
When hot badass Reid Wentworth shows up on a motorcycle, everything changes. Like, everything. Who I am. My family. What really happened to my brother. Existence. I am Oculi, and I have the ability to change reality with my thoughts. Now Reid, in all his hotness, is charged with guiding and protecting me as I begin learning how to bend reality. And he's the only thing standing between me and the secret organization that wants me dead...


Tonya Kuper is a young adult author living in Omaha, Nebraska with her two cool boys and husband. ANOMALY, the first in the Schrodinger's Consortium trilogy, is her debut novel and releases November, 25, 2014 by Entangled Teen. Tonya is a music junkie, Star Wars dork, and Sherlock lover.