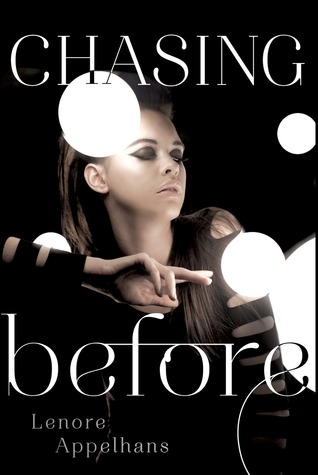 Hello and congrats to Lenore Appelhans!
CHASING BEFORE, the sequel to THE MEMORY OF AFTER, is out today!
*throws memory-altered confetti*
I have a bunch of questions to ask Lenore about her book, which I was lucky enough to read in the early stages and LOVED it from the beginning!
Me: I loved the new world you built in Chasing Before. Did you have this all consciously thought out when you wrote The Memory of After? If so, did a lot of it change once you began writing it?
Lenore: The Memory of After was originally conceived as a standalone, so when it came time to figure out what to do with a contracted sequel, I had to go back to the drawing board. I knew I wanted to continue to use elements of both Christian theology and mythology to create Level 3, but the landscape is vastly different than what you find in Level 2.
Me: So...you live in Germany! How does living in another country affect your writing process?
Lenore: I often describe Germany as my writing cave. When I'm here, I'm a homebody most of the time, butt in chair, writing. I use trips to the US to be social and network. That's not to say I don't appreciate the opportunity to be in a myriad of different countries within a few hours. Taking short trips in Europe gives me the chance to refill the creative well with new impressions and experiences. I love it!
Me: Who is your favorite new character we get to meet in the sequel?
Lenore: Great question! I am quite fond of both Libby and Brady, so much so that they get their own POV flashbacks in the eNovella THE BEST THINGS IN DEATH. But, I do enjoy the way Nate brings out a side of Neil we haven't seen before, and I'm partial to him because I made him old enough that Ian Somerhalder could play him in the film. Ha!
Thanks Lenore! So glad to be able to chat with you!
And here's a little about CHASING BEFORE:
"I'm a ticking time bomb. And one day soon everything is going to explode."
Felicia and Neil have arrived in Level 3 and are supposed to prepare for their divine vocations.
But during Felicia and Neil's training period, a series of explosions rips through Level 3. Tension is high, and casualties are mounting. A rift forms between the pair, one that grows wider when Felicia receives memories from the Morati. The memories cast doubt on the people she loves the most, but Felicia can't stop her curiosity. She has to know the truth about her life – even if it means putting at risk everything she's worked for in her death.
Where to get the book: